El 26 de mayo de 1913 en Surrey, Kenley, Inglaterra, nacía Peter Wilton Cushing, uno de los grandes caballeros de la historia del cine, actor de actores, conocido por su remarcable capacidad y su profesionalidad hasta en las peores circunstancias, en el seno de una familia de clase media sin problemas económicos. Desde su nacimiento estuvo destinado a convertirse en actor. Su abuelo había sido miembro de la prestigiosa compañía teatral sir Henry Irving Company, y su tío Wilton había sido actor y manager teatral, fue en recuerdo suyo el que le pusieran como segundo nombre Wilton. Con semejantes antecedentes en la familia es normal que tuviera esta afición. ("Desde que tengo memoria creo recordar que siempre quise ser actor").
Tras rodar "TIME WITHOUT PITE", en 1956 bajo las ordenes de Joseph Losey, Cushing recibe la oferta de una compañía, la Hammer, dirigida por Sir James Carreras, quien pensaba que todo aquel que fuera conocido y gustara en televisión, era interesante para sus películas, para interpretar al doctor Frankenstein (papel que retomaría en cinco ocasiones más) en una nueva versión del libro de Shelley. Fue en 1957, cuando se convirió en el caballero del horror inglés con "CURSE OF FRANKENSTEIN", dirigida por Terence Fisher. ("Le propuse a mi agente que llamara a Sir James Carreras y le preguntara si aún me quería, porque él había estado detrás de mí todos estos años, tratando de conseguirme, pero yo siempre estaba ocupado y ahora estaba libre. Así fue como se dio. Y yo estaba encantado porque la película se hizo en término y con muy poco dinero"). Es la primera colaboración del actor con la Hammer, colaboración que se prolongará durante más de dos décadas. También coincide con Christopher Lee en el papel del monstruo (si bien es cierto que ambos participaron en "Hamlet" nunca fue en la misma escena), formando la mejor pareja de actores que nos haya dado jamás el fantástico. Pero ante todo está la profunda amistad y colaboración que unió al actor con el director de la película, Terence Fisher.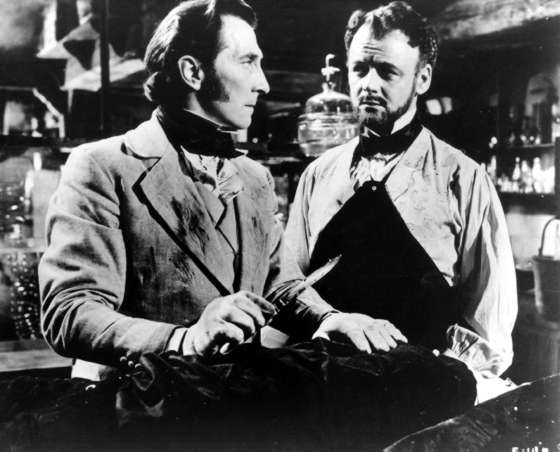 "LA MALDICIÓN DE FRANKENSTEIN" ("CURSE OF FRANKENSTEIN", 1957) resultó un éxito. El mismo año, y también para la Hammer, participó en "THE ABOMINABLE SNOWMAN OF THE HIMALAYAS", una bastante lograda producción de aventuras y terror sobre el Yeti, en la que interpretaba el papel de doctor Rollson. Con "CURSE OF FRANKENSTEIN" se recuperó el presupuesto y los de Hammer quedaron enloquecidos volviendo a invertir el dinero, 70 mil libras para hacer "DRÁCULA" ("DRÁCULA", 1958), también dirigida por Fisher, una de las mejores versiones del clásico.
Así como Cushing fue el actor fetiche de la Hammer, Terence Fisher fue el director preferido por la productora, y juntos filmaron muchas películas más.
El mismo año, 1958, filmaron juntos "REVENGE OF FRANKENSTEIN", otra secuela del monstruo, aunque no tan efectiva. Luego vendrían "THE MUMMY", en la que da consejos a su amigo Fisher, como el de que al disparar sobre la momia saliera polvo de su cuerpo; "THE BRIDES OF DRÁCULA", una versión bizarra de Robin Hood llamada "SWORD OF SHERWOOD FOREST", en la que el papel de Robin Hood fue interpretado por Richard Green (Sir Henry Baskerville de "THE HOUND OF THE BASKERVILLE" de 1939 con Basil Rathbone), "THE GORGON", "ISLAND OF TERROR", "FRANKENSTEIN CREATED WOMAN", "FRANKENSTEIN MUST DIE!" y "FRANKENSTEIN AND THE MONSTER FROM HELL", entre otras producciones.
El enorme éxito de "LA MALDICIÓN DE FRANKENSTEIN" ("CURSE OF FRANKENSTEIN," 1957) catapultó la popularidad de Cushing fuera de las fronteras del Reino Unido. La interpretación que hace Cushing del barón sólo se puede describir de excelente, no se puede concebir esta película, y todo el ciclo de Frankenstein, sin la presencia de Cushing. Durante las seis películas de que consta la serie, Cushing va adaptando la personalidad del barón a la situación reflejada en cada una de ellas. Así la dualidad que presenta "LA VENGANZA DE FRANKENSTEIN" ("REVENGE OF FRANKENSTEIN", 1958) es reflejada en su actuación, nunca el cinismo fue tan bien descrito por un actor con sólo unos cuantos gestos. En "FRANKENSTEIN CREO A LA MUJER" (FRANKENSTEIN CREATED WOMAN", 1967) y en "EL CEREBRO DE FRANKENSTEIN" ("FRANKENSTEIN MUST BE DESTROYED", 1968), Cushing interpreta a un Frankenstein lleno de energía, cruel y sádico. Por contra en "FRANKENSTEIN Y EL MONSTRUO DEL INFIERNO" ("FRANKENSTEIN AND THE MONSTER OF HELL", 1973) la interpretación se centra en la amargura del personaje, más viejo y más cansado. No hay duda que Cushing nació para interpretar a este personaje.
Pero también fue el mejor Van Helsing que nos dio la pantalla, en "DRÁCULA", Cushing compone a un Van Helsing científico, un erudito, que reniega de las supersticiones y ante todo un cazador de vampiros que persigue al mal allí donde se encuentre con un arrojo envidiable. La participación del actor en esta película no sólo se refleja en su actuación, fue Cushing quien tuvo la idea del final de la película. Terence Fisher aceptó encantado la idea del actor de que Van Helsing se lanzara, desde la mesa del salón del castillo hacia las ventanas para descorrer las pesadas cortinas y hacer un crucifijo con los candelabros, la luz se encargaría del resto.
Las características de los personajes que interpretaba Cushing eran variadas, personajes atléticos, fuertes, caballerosos y sobre todo con autoridad. Fuese bueno o malo, su personaje nunca defraudaba, interpretaba con la misma perfección ambos bandos creando excelentes interpretaciones. Otra de sus mejores bazas era su intensa mirada. En la mayoría de las películas de terror, los héroes son personajes planos y aburridos, mientras que los villanos son más interesantes y activos. El Van Helsing de "DRÁCULA" de 1958 rompió esos moldes.
La segunda encarnación de Van Helsing tuvo lugar con "LAS NOVIAS DE DRÁCULA" ("THE BRIDES OF DRÁCULA", 1960), donde Cushing nos presenta a un Van Helsing con debilidades humanas, pero que sigue en su empeño de acabar con el mal aunque para ello tenga que aplicarse un hierro al rojo vivo tras el beso del vampiro. No volvería a incidir en el personaje creado por Stoker hasta los años setenta en dos películas olvidables ya sin Fisher pero con Christopher Lee interpretando a Drácula.
Como declaró el director John Carpenter: "Peter Cushing se convirtió en un icono de quienes han de ser Frankenstein y Van Helsing".
El tercer gran personaje de la literatura que interpretó Cushing fue Sherlock Holmes en "EL PERRO DE BASKERVILLE" ("THE HOUND OF BASKERVILLE", 1959)la primera película del personaje en color. No fue un gran éxito para la Hammer pero contiene una de las mejores interpretaciones de la filmografía de Peter Cushing. Seguidor de Conan Doyle y propietario de algunos ejemplares del Strand Magazine como era, dotó totalmente al personaje de ese misterio que siempre acompañó al detective. Pese a las condiciones de Cushing por construir un Holmes lo más parecido al original tanto en carácter como en apariencia y accesorios la película tiene varios elementos que no tienen nada que ver con el relato original pero que la dotan del ambiente clásico de las películas de la Hammer. En 1964, formando parte de una serie titulada "THE DETECTIVES", la BBC emitió un capítulo de una hora: "THE SPECKLED BAND", interpretada por Douglas Wilmer. El éxito del episodio fue tal que en 1965 se realizaron unas series de episodios con el simple título de "SHERLOCK HOLMES" interpretados por el mismo Wilmer y Nigel Stock en el papel de Watson, que igualmente disfrutaron de gran éxito. En 1968, cuando se propuso realizar una nueva serie Douglas Wilmer rechazó interpretar de nuevo al personaje, y fue ofrecido a John Neville, que tampoco aceptó. Cushing retomaría entonces el personaje en esta serie que se llamó "SIR ARTHUR CONAN DOYLE'S SHERLOCK HOLMES", interpretó una serie de dieciséis episodios entre los que también había otra recreación de "El Sabueso" en dos partes, el 7 y el 14 de Julio de 1968. Esta serie iba a ser la más costosa y ambiciosa sobre el detective. Cushing cobró 735 Guineas de la época por episodio. ("Intenté recrear fielmente al personaje... Según los entendidos, Sherlock Holmes, Mr. Pickwick, Billy Budd, Robinson Crusoe son figuras que nunca perderán su vigencia, lo que me parece maravilloso. El haber interpretado ese personaje me pareció realmente como la materialización de un sueño, para la mayoría de los actores. Creo que uno es muy afortunado si tiene los rasgos apropiados, es una gran ayuda. Si bien muchos actores, muy inteligentes, han hecho el papel sin tener el 'psyche du rol', yo creo que es ventajoso tenerlo. Tener el aspecto requerido por el papel. Es un papel difícil de representar. Es tan sube y baja como un yo-yo. Hay que tener mucho cuidado que el público no se aburra, porque es un poco demasiado ingenioso."). Douglas Wilmer, que había abandonado por el recorte de horario de ensayos que ordenaron los productores, comentaba lo siguiente, "Le pregunté si le había gustado hacer la serie de Holmes. Me contestó concisamente que prefería barrer la Estación de Paddington a volver a pasar por aquella experiencia. ¡Estoy totalmente de acuerdo con él!".
Cushing alternó sus papeles terroríficos con otros muy distintos, para diversificar su trabajo, pero siempre volvía, aun siendo malas películas, para satisfacer a sus admiradores. ("¿Quién quiere verme como Hamlet? Muy pocos. Pero millones de personas quieren verme como el Barón Frankenstein, entonces ese es el que hago"). Cushing era muy apreciado por crítica y público por su interpretación corporal, por su suave voz de perfecto acento londinense, e incluso por la utilización gestual de objetos. El secreto de sus interpretaciones residía en algo bien sencillo: ("Yo creo en los personajes que represento y en los extraños y extraordinarios líos que organizan. Tengo que creer que es el único modo en el que evito que se rían de mí y de mis películas al salir del cine.").
Durante la década de los 60 Cushing filmó alrededor de 30 películas, entre ellas tres ya comentadas sobre Frankenstein, "EVIL OF FRANKENSTEIN", "FRANKENSTEIN CREATED WOMAN", y "FRANKENSTEIN MUST DIE!". A estas se les agrega la comedia "ONE MORE TIME", protagonizada por Jerry Lewis, donde Cushing hace una aparición como el Dr. Frankenstein.
Otros títulos importantes de este período fueron "THE SKULL", "DR.TERROR´S HOUSE OF HORRORS", "THE MUMMY´S SHROUD", "TORTURE GARDEN", "CAPITAN CLEGG", donde Cushing interpreta a un aventurero con doble personalidad, demostrando la versatilidad del actor; "CASH ON DEMAND", un thriller en donde Cushing demuestra moverse tan bien como en el fantástico; "THE GORGON" interpretando al malvado y siniestro doctor Namaroff; "LAS AMANTES VAMPIRO" ("THE VAMPIRE LOVERS") retornando al cazador de vampiros, aunque sin el romanticismo que poseía van Helsing. Fuera de la Hammer, Cushing también fue prolífico en cuanto a películas y personajes, así en "LA CARNE Y EL DEMONIO" ("THE FLESH AND THE FIENDS") película que gira sobre los míticos Burke y Hare, Cushing interpreta al doctor Knox, el cual nos recuerda demasiado a Frankenstein; en "DOCTOR WHO Y LOS DALEKS" ("DOCTOR WHO AND THE DALEKS") es el celebre personaje de televisión; el éxito de la película se vio reflejado en una secuela "DALEKS INVASION EARTH 2150 AD", en ambas Cushing da una lección de como hay que interpretar al doctor Who a todos los actores que a lo largo de los años se han acercado al personaje.
"S.O.S. EL MUNDO EN PELIGRO" ("ISLAND OF TERROR", 1966) representa el reencuentro con Fisher fuera de la Hammer, obteniendo como resultado una de las mejores películas de ambos; "PÁNICO EN EL TRANSIBERIANO" ("HORROR EXPRESS", 1971) dirigida por Eugenio Martín y co-protagonizada por Lee, ambos maravillosos en esta agradable y sencilla cinta española, "THE GHOUL", 1974, donde vuelve a recrear a un torturado científico, película por la que se llevó su primer premio como mejor actor en el Festival Internacional de Cine de Ciencia-Ficción Y Terror de Sitges. El segundo fue en 1983, por "LA CASA DE LAS SOMBRAS" ("HOUSE OF THE LONG SHADOWS", 1982) película en la que intervienen junto a Cushing, Lee, Vincent Price y John Carradine, convirtiéndose el film en un homenaje a esos cuatro monstruos de la actuación. Otra de las facetas del actor, como vemos, es que no le hacía ascos (tal vez por motivos alimenticios) a ningún papel aunque éste fuera en engendros de serie Z. En todas ellas y en las otras muchas en las que intervino incluyendo bodrios del calibre de "EN EL CORAZON DE LA TIERRA" ("AT THE EARTH´S CORE", 1976) o "MISTERIO EN LA ISLA DE LOS MONSTRUOS" ("MONSTER ISLAND", 1980), Cushing dio lo mejor de sí mismo.
Como muchos actores ingleses de su época, Cushing participó como invitado en muchos capítulos de las series televisivas del momento, "LOS VENGADORES", "DR. WHO", etc...Pese a sus truculentos papeles en muy truculentas películas, tenía varios hobbies de lo más inofensivos, construía miniaturas de escenas teatrales, gran amante de los libros, y una pasión infantil: coleccionaba soldaditos de juguete. ("Soy un entusiasta miembro de la Model Soldier Society que se reúne una vez al mes, en un pub de Regent street. ¿Por qué colecciono soldados? Me gusta jugar a "War", un juego inventado por H. G. Wells, otro coleccionista. Es un juego lleno de estrategia y puede llegar hasta nueve horas de duración para acabarlo").
Pero además, en el poco tiempo libre que le quedaba entre película y película, se dedicaba a la pintura de paisajes y a la ornitología.
La muerte de su mujer a causa de un enfiisema en 1971 sumió a Cushing en una profunda tristeza y melancolía ("Siempre he dicho que nací en 1913, empecé a vivir en 1941 cuando conocí a Helen, y morí en 1971 cuando ella falleció"), la cual sobrellevaba trabajando sin cesar, "volviéndose "frío y distante, una sombra de lo que fue " (en palabras de su compañera de trabajo Veronica Carlson). Cushing lograba seguir adelante a duras penas únicamente porque sabía que al final volvería a reunirse con su esposa. Se volcó en el trabajo para tratar de superar su situación llegando a rodar doce películas en los doce meses siguientes. Entre ellas, a modo de homenaje a Helen, interpretó en "CONDENADOS DE ULTRATUMBA" a un hombre absolutamente destrozado por la muerte de su esposa. Fue su periodo más prolífico, filmando un total de 9 películas (casi un record del cine sonoro). Las más importantes de esas 9 son: "DR.PHIBES RISES AGAIN!" y "HORROR EXPRESS" (ya comentada). Las otras dos películas interesantes son: una bizarra versión de Dracula llamada "DRACULA 1972", y la primera versión filmada del comic "TALES FROM THE CRYPT", película poco conocida pero muy truculenta e interesante en la que participó, entre otros, Joan Collins.
En 1975 rechazó la oportunidad de interpretar de nuevo a Sherlock Holmes en "THE CRUCIFER OF BLOOD" en Broadway debido a que su constitución ya no habría podido soportar los rigores de escena. Más tarde Charlton Heston interpretaría la obra en Los Angeles con Jeremy Brett en el papel de Watson.
En 1976, George Lucas se reunió con él para proponerle el papel de Obi-Wan Kenobi, pero en cuanto le conoció, supo que había encontrado al Gobernador Tarkin. ("Francamente, habría sido más bonito interpretar a Kenobi, pero de hecho no tuve elección. Estaba haciendo otra película a la vez, e iban a surgir problemas con el programa de rodaje de 'STAR WARS'. Al final todo funcionó, ya que el papel de Tarkin costó menos tiempo de rodaje que el de Kenobi ...Yo estaba vestido más bien como un chauffeur victoriano, con un cuello alto hasta aquí, haciendo del Gran Moff Tarkin en "LA GUERRA DE LAS GALAXIAS" y con un par de botas de montar que me llegaban hasta aquí, muy ajustadas. No pudieron hacerme las botas a tiempo, lo que ocurrió debido a mis grandes pies, así que tuve que arreglármelas con un par cualquiera. Y ahí estaba yo, el primer día de filmación, como este muy irascible y desagradable caballero, el Gran Moff Tarkin bailoteando alrededor, y era realmente una agonía. Así que al día siguiente le dije al querido George Lucas, el director: "George, no te estoy pidiendo primeros planos, pero ¿te parece que podrás enfocarme de la cintura para arriba de ahora en adelante?" Y me preguntó por qué. Y yo le dije la razón. Y me dijo "muy bien", y me dio un par de pantuflas, así que el resto de la película anduve con aspecto de estar enojado con mi querida Carrie Fisher, haciendo del Gran Moff Tarkin en pantuflas ... Sin duda, fui la envidia de otros actores").
El carácter siempre amable, generoso y humilde para con todo el mundo es legendario. Carrie Fisher comentó: "Me caía tan bien Peter Cushing que me resultaba casi imposible sentir el odio que necesitaba al actuar frente a él". Y el actor Don Henderson (Gral. Tagge), que también coincidió con él en el film "THE GHOUL", decía: ("Mis recuerdos de trabajar con Peter es que él era un hombre de un gran encanto, muy educado, todo un caballero y un profesional al 100%. Nunca le oí jurar, ser descortés con alguien, molestar a alguien, ni siquiera decir algo malo sobre cualquier persona, pasase lo que pasase").
Cushing quedó extasiado con el resultado final de "LA GUERRA DE LAS GALAXIAS". Lo único que lamentaba, decía, era que ("El pobre Tarkin al final saltaba por los aires, lo que implicaba que no podría aparecer en las secuelas").
Después de "STARS WARS", Cushing fue a Canadá a trabajar en "THE UNCANNY", y a medio camino paró en Los Angeles para aparecer en la producción de ABC Televisión, "THE GREAT HOUDINIS". Fue la primera película para televisión que hizo Cushing y aparecía en ella interpretanto a... ¡Sir Arthur Conan Doyle! Maureen O'Sullivan interpretaba a Mrs. Conan Doyle, Paul Michael Glaser (Starsky) era Houdini, y también aparecía Bill Bixby (el doctor "David" (Bruce) Banner de "la serie "LA MASA"). Como es natural, el físico de Cushing no era el apropiado para interpretar al escritor pero su actuación fue como siempre totalmente digna.
El cierre de la Hammer, según sus propias declaraciones, su segunda casa, y la muerte de su amigo Terence Fisher en 1980 supuso un duro golpe para el actor.
A partir de entonces fue reduciendo su trabajo como actor, tras serle diagnosticado un cáncer de próstata en 1982. ("el esposo de mi querida secretaria llamó por teléfono al médico y le preguntó "¿cuánto tiempo le da?" y la respuesta fue "un año, a lo sumo 18 meses." Eso fue en 1982. No me lo dijeron hasta seis meses después. Nunca me había sentido tan bien en mi vida, así que le dije al médico: "¿Bueno, qué es lo que hago?" Y me dijo: "Siga adelante, siga adelante, siga viviendo como hasta ahora." Y le dije: "Está bien, eso es para una película." Pero eso fue lo que hice. Me trataron maravillosamente. No tuve que operarme. En el hospital fui atendido a las mil maravillas por las queridas enfermeras, el Dr. Drake y el Dr. Durville, el cirujano. Pero no tuvo que operarme. Todo lo que me queda es esperar que contando esto en el epílogo de mi segundo libro pueda aliviar a otros que sufren mucho más que lo que yo sufrí. En realidad no sufrí, no era cómodo, pero no era ese terrible sufrimiento que suele darse con dolores mortales y eso. Lo único es que ahora estoy un poco cansado y desgraciadamente no puedo hacer todo lo que me gusta, por ejemplo hacer la nueva película de Sherlock Holmes. Pero sería decepcionante, porque es una tarea que requiere energía física y mental y creo que ya no las tengo, pienso que sería injusto. Pero siempre tuve problemas con un actor, ¿quiere saber su nombre? Peter Cushing. Nunca está satisfecho, siempre quiere hacerlo todo").
Tras pasar por una dolorosa enfermedad en la vista, en 1984 retornará a la pantalla pequeña con el personaje de Holmes en "SHERLOCK HOLMES Y LAS MÁSCARAS DE LA MUERTE" ("SHERLOCK HOLMES AND THE MASKS OF DEATH") de Tyburn Productions. Dirigido de nuevo por Roy Wrad Baker, otro de sus compañeros de la Hammer, fue acompañado por Sir John Mills en el papel de doctor Watson. Con setenta y un años aún interpretó a un Holmes enérgico y auténtico que con ayuda de Irene Adler (Anne Baxter) acaba con las intenciones de un villano alemán (Antón Diffring) que intenta crear un conflicto internacional. Según confesó Cushing, fue Mills el que le convenció para volver a actuar en esta producción, que tiene como único objetivo rendir homenaje al gran actor. ("Y Watson no es ningún tonto. Creo que es un error presentarlo como un tonto, pues de serlo, Holmes no lo soportaría. Además, Holmes tiene esa mente increíble, y todas sus observaciones se basan en las cosas más sencillas... Cuando se piensa en André Morell, Nigel Stock y Sir John Mills, no se puede pedir mucho más, ¿no? Esta relación entre dos hombres es encantadora. Uno es un brillante e inteligente doctor que debe haber tenido dos o tres esposas. Así que debe haber habido algo que le cayera bien. A la vez que diestro médico, es el gran compañero de Holmes. Lo importante de Watson, es que en cada generación surgen nuevos amantes del personaje, es decir que nunca morirá. El único problema es que el viejo Holmes es un gran amante de esas cosas, las pipas. Y si alguna vez me ve en la pantalla fumando en pipa y con aspecto que la disfruto, debe saber que no está prendida. Es una simulación, es algo para chupar. Eso sí, es una muy buena actuación, porque la pipa me provoca unas nauseas terribles y tengo que tener un vaso de leche bajo de mi asiento e inmediatamente después del corte tomo un sorbo, así no quedo en ridículo... La ironía de todo esto es que me convertí en Pipeman of the Year (Fumador de Pipa del Año), premio que me concedió la Briar Pipe Trade Association, que llegaron a hacer un busto de mi persona con mi nombre grabado, igual que antes habían recibido este premio Harold Wilson, Warren Mitchell y Andrew Cruickshank").
En sus últimos años Peter Cushing realizó tres cameos en películas de diverso interés. El primero fue en 1984, en la comedia "TOP SECRET!", donde parodió su rol de Sherlock Holmes con una gran lupa y un gran ojo al frente de una biblioteca. Luego le tocó en suerte, en 1986, una aparición en "BIGGLES". Su último papel, casi invisible, lo realizó a los 79 años en una comedia de horror de John Landis llamada "INNOCENT BLOOD".
Aprovechó su retiro para escribir una autobiografía en dos volúmenes: "Peter Cushing, An Autobiography" y "Memoirs of the Hammer Years", este último monográfico sobre su trabajo en la Hammer. ("Realmente nunca me consideré un escritor profesional, por eso el primer libro se llama "Peter Cushing, una Autobiografía" y me sirvió como terapia después de la muerte de mi esposa. Me ha causado placer que el capítulo final en el que expreso mis creencias, mi fe inconmovible en que todo no termina con la muerte, en que hay algo más que llega, porque de otro modo, para mí, esta vida tendría muy poco sentido, había impresionado a una cantidad de gente muy grande en la misma situación que yo estaba (y en la que por cierto sigo estando) y que los haya ayudado. Es algo maravilloso, porque lo expresé con sinceridad, y estaba un poco preocupado por si a la gente le resultaba excesivo en no creer en este tipo de cosas. Para mí es la única verdad, lo único en lo que hay que creer. Me ha mantenido en pie durante 19 años, y teniendo esto y lo que Helen me dio, puedo trasmitirlo a otros, si lo escribo de forma correcta. Debo decir que esta es una de las cosas más maravillosas que me han ocurrido. Yo se que Helen me está esperando. Es la gran diferencia que hay entre yo y otra gente, tengo algo por lo que seguir adelante, y esto es lo maravilloso: algo por que esperar"). También se dedicó a recaudar fondos para la investigación sobre la enfermedad que padecía, y disfrutar con la lectura, la observación de pájaros y la pintura. En este último aspecto cabe destacar la publicación en los años 90 de los libros "Peter Cushing's Tudor Tea Room Profiles", recopilación de caricaturas dibujadas por el actor, y "The Bois Saga", cuento de fantasía escrito e ilustrado por él.
En 1988, la Reina Isabel II le otorgó la OBE, Órden del Imperio Británico "por su contribución al entretenimiento internacional", galardón del que siempre se mostró muy orgulloso. Pero el mejor premio para Cushing eran las numerosas cartas que seguía recibiendo por parte de los aficionados, muchas de las cuales se las enviaban sin dirección, pero debido a su popularidad, el servicio de correos británico sabía donde remitirlas. Esto lo relataba el actor en un documental que Kevin Francis, hijo de Freddie Francis rodó en homenaje a su amigo.
En 1994, con 81 años, la BBC lo convocó junto a Christopher Lee para un documental sobre la productora Hammer. El telefilm se llamó "CARNE Y SANGRE". Dos días después de concluir la filmación, el 11 de agosto de 1994, Peter Wilton Cushing, con ochenta y un años, víctima del cáncer que le acosaba desde 1982 falleció de un infarto en su casa de Canterbury, Inglaterra. Por fin consiguió su sueño, después de veintitrés años volviór a reunirse con su adorada mujer Helen y su buen amigo Terry Fisher.
Su contribución y dedicación a los films en que apareció nunca será igualada. El trato amable y generoso que tuvo con sus compañeros, amigos y seguidores es legendario. Su carácter honrado, su fidelidad a su mujer y a sus amigos le convirtieron para siempre en EL CABALLERO DEL HORROR.
"Peter fue muy querido, y no menos por mí, los amantes del cine de todo el mundo han sufrido su pérdida profundamente, y yo he perdido un gran amigo. No habrán más llamadas suyas con aquellas historias tan graciosas. Añoraré su grandeza. Le echaré a faltar. – Christopher Lee.
Como dijo George Lucas: "Creo que será recordado con cariño durante los próximos 350 años, como mínimo".
TRABAJOS DE PETER CUSHING:
EN CINE
LA MÁSCARA DE HIERRO, EL (1939) .... Mensajero del Rey
NOCHE DE ANGUSTIA (1940) .... Joe Shand
ESTUDIANTES EN OXFORD (1940) .... Estudiante (Jones)
HIDDEN MASTER, THE (1940) .... Robert Clive de la India
DREAMS (1940) .... Primer soñador
WOMEN IN WAR (1940) .... Capitán Evans
LADDIE (1940) .... Robert Pryor
THEY DARE NOT LOVE (1941) .... Sub-Lieutenant Blacker
WOMAN IN THE HOUSE (1942) (no acreditado) Hombre levantándose
RETURN FROM NOWHERE (1944) (no acreditado) Hombre que despierta
HAMLET (1948) .... Osric
MOULIN ROUGE (1952) .... Marcel de la Voisier
CABALLERO NEGRO, EL (1954) .... Sir Palamides
VIVIR UN GRAN AMOR (1955) .... Henry Miles
ALEJANDRO MAGNO (1956) .... Memnon
TIME WITHOUT PITY (1956) .... Jeremy Clayton
MAGIC FIRE (1956) .... Otto Wesendonk
MALDICIÓN DE FRANKENSTEIN, LA (1957) .... Barón Victor Frankenstein
ABOMINABLE SNOWMAN, THE (1957) .... Dr. John Rollason
DRACULA (1958) .... Doctor Van Helsing
BARRIO PELIGROSO (1958) .... El Sacerdote
VENGANZA DE FRANKENSTEIN, LA (1958) .... Dr. Victor Stein, Frankenstein
PERRO DE LOS BASKERVILLE, EL (1959) .... Sherlock Holmes
JOHN PAUL JONES (1959) .... Capitán Pearson
MOMIA, LA (1959) .... John Banning
CARNE Y EL DEMONIO, LA (1959) .... Dr. Robert Knox
NOVIAS DE DRÁCULA, LAS (1960) .... Dr. Van Helsing
SWORD OF SHERWOOD FOREST (1960) .... Sheriff de Nottingham
SUSPECT (1960) .... Profesor Sewell
CABALLEROS DEL INFIERNO, LOS (1960) .... Merryweather
AGENTE DEL DIABLO, EL (1961) (escenas eliminadas)
SOMBRAS DE SOSPECHA (1961) .... Mr. Wrack
BAHÍA DE LOS CONTRABANDISTAS, LA (1961) .... Squire Trevenyan
CONE OF SILENCE (1961) .... Capt. Clive Judd
CASH ON DEMAND (1961) .... Fordyce
CAPTAIN CLEGG (1962) .... Rev. Dr. Blyss (Capt. Clegg)
HOMBRE QUE MURIÓ TRES VECES, EL (1962) .... Dr. von Brecht
EVIL OF FRANKENSTEIN, THE (1964) .... Baron Frankenstein
GORGON, THE (1964) .... Dr. Namaroff
DIOSA DE FUEGO, LA (1965) .... Maj. Horace Holly
MALDICIÓN DE LA CALAVERA, LA (1965) .... Dr. Christopher Maitland
DR. TERROR'S HOUSE OF HORRORS (1965) .... Dr. Sandor Schreck
DR. WHO AND THE DALEKS (1965) .... Dr. Who
DRÁCULA: PRINCIPE DE LAS TINIEBLAS (1966) (no acreditado) Van Helsing
S.O.S.: EL MUNDO EN PELIGRO (1966) .... Dr. Brian Stanley
DALEKS' INVASION EARTH: 2150 A.D. (1966) .... Dr. Who
MUMMY'S SHROUD, THE (1967) (no acreditado) .... Narrador
TORTURE GARDEN (1967) .... Lancelot Canning
SOME MAY LIVE (1967) (TV) .... John Meredith
NIGHT OF THE BIG HEAT (1967) .... Dr. Vernon Stone
FRANKENSTEIN CREÓ A LA MUJER (1967) .... Barón Frankenstein
CORRUPCIÓN (1967) .... Sir John Rowan
DESEO Y LA BESTIA, EL (1967) .... Inspector Quennell
CEREBRO DE FRANKENSTEIN, EL (1969) .... Barón Victor Frankenstein
CARRERA DE LA MUERTE, LA (1969) .... Benedek
VAMPIRE LOVERS, THE (1970) .... General von Spielsdorf
ONE MORE TIME (1970) (no acreditado) .... Dr. Frankenstein
MANSIÓN DE LOS CRÍMENES, LA (1970) .... Philip Grayson
DRÁCULA Y LAS MELLIZAS (1971) .... Gustav Weil
MONSTRUO, EL (1971) .... Frederick Utterson
INCENSE FOR THE DAMNED (1972) .... Dr. Walter Goodrich
CONDENADOS DE ULTRATUMBA (1972) .... Arthur Edward Grimsdyke
MIEDO EN LA NOCHE (1972) .... Michael Carmichael
DRACULA 73 (1972) .... Profesor Van Helsing
NOCHE INFERNAL (1972) .... Sir Mark Ashley
PÁNICO EN EL TRANSIBERIANO (1972) .... Dr. Wells
RETORNO DEL DOCTOR PHIBES, EL (1972) .... Capitán
REFUGIO MACABRO (1972) .... Smith
FROM BEYOND THE GRAVE (1973) .... Propietario Tienda Antigüedades
CREEPING FLESH, THE (1973) .... Emmanuel Hildern
AND NOW THE SCREAMING STARTS! (1973) .... Dr. Pope
KUNG FU CONTRA LOS SIETE VAMPIROS DE ORO (1974) .... Prof. Van Helsing
SHATTER (1974) .... Paul Rattwood
RITOS SATÁNICOS DE DRÁCULA, LOS (1974) .... Profesor Van Helsing
MADHOUSE (1974) .... Herbert Flay
FRANKENSTEIN AND THE MONSTER FROM HELL (1974) .... Barón Frankenstein
BESTIA DEBE MORIR, LA (1974) .... Dr. Christopher Lundgren
TENDER DRACULA (1975) .... MacGregor
LEGEND OF THE WEREWOLF (1975) .... Paul Cataflanque
GHOUL, THE (1975) .... Doctor Lawrence
TRIAL BY COMBAT (1976) .... Sir Edward Gifford
LAND OF THE MINOTAUR (1976) .... Baron Corofax
EN EL CORAZÓN DE LA TIERRA (1976) .... Dr. Abner Perry
GUERRA DE LAS GALAXIAS, LA (1977) .... Gran Moff Wilhuff Tarkin
UNCANNY, THE (1977) .... Wilbur Gray
ÚLTIMA BANDERA, LA (1977) .... Mayor von Hackenberg
TERROR EN LAS AGUAS (1977) .... Comandante de las SS
HITLER'S SON (1978) .... Heinrich Hussner
TOUCH OF THE SUN, A (1979) .... Comisario Potts
ALFOMBRAS MÁGICAS (1979) .... Wazir Al Wuzara
ASALTO AL CASINO (1980) .... Sir Thomas Bedford
MISTERIO EN LA ISLA DE LOS MONSTRUOS (1981) .... William T. Kolderup
CABALLERO VERDE, EL (1982) .... Seneschal
CASA DE LAS SOMBRAS, LA (1983) .... Sebastian Grisbane
TOP SECRET (1984) .... Librero
BIGGLES: ADVENTURES IN TIME (1986) .... Coronel William Raymond
EN TELEVISIÓN
EDEN END (1951)
WHEN WE ARE MARRIED (1951)
PRIDE AND PREJUDICE (1952, serial en seis partes)
BIRD IN HAND (1952)
IF THIS BE ERROR (1952)
THE SILVER SWAN (1952)
ASMODEE (1952)
NUMBER THREE (1953) .... Simpson
EPITATH FOR A SPY (1953, serial en seis partes)
A SOCIAL SUCCESS (1953)
ROOKERY NOOK (1953)
THE ROAD (1953)
ANASTASIA (1953)
THE NOBLE SPANIARD (1953)
PORTRAIT BY PEKO (1953)
TOVARICH (1954)
THE FACE OF LOVE (1954)
BEAU BRUMMELL (1954) .... Beau Brummell
1984 (1954) .... Winston Smith
RICHARD OF BORDEAUX (1955)
THE BROWNING VERSION (1955)
THE MOMENT OF TRUTH (1955)
THE CREATURE (1955) .... Dr. John Rollason
HOME AT SEVEN (1957)
GASLIGHT (1957)
THE WINSLOW BOY (1958)
UNCLE HARRY'S BALLOON(1958)
PEACE WITH TERROR (1962)
COMEDY PLAYHOUSE: THE PLAN (1963)
STORY PARADE: The Caves of Steel (1964) .... Elijah Baley
THE SPREAD OF THE EAGLE: Julius Caesar (1964) .... Cassius
THE BERNARD CRIBBINS SHOW: (episodio desconocido) (ca. 1965)
MONICA (1965)
Anuncio para la Milk Markething Board, (1966)
THE AVENGERS: Return of the Cybernauts (1967) .... Paul Beresford
SHERLOCK HOLMES (1968-1969) .... Sherlock Homes
THE MORECAMBE AND WISE SHOW: (no titulados) (1969, 1970, 1973)
WILD LIFE SPECTACULAR (1971) -narrador de documental-
Anuncio para la Milk Marketing Board (1972)
THE ZOO GANG: The Counterfeit Trap (1973)
ORSON WELLES GREAT MYSTERIES: La Grande Bretèche (1973)
Anuncio para la Milk Marketing Board (1974)
HAUNTED (1975) -narrador-
SPACE: 1999: Missing Link (1976) .... Raan
THE NEW AGENGERS: The Eagle's Nest (1976)
THE GREAT HOUDINIS (1976) .... Sir Arthur Conan Doyle
HISTORIA DE DOS CIUDADES (1980) .... Dr. Manette
THE HAMMER HOUSE OF HORROR: The Silent Scream (1980)
TALES OF THE UNEXPECTED: The Vorpal Blade (1982) .... Von Baden
HELEN KELLER: THE MIRACLE CONTINUES (1983) .... Profesor C. Copeland
SHERLOCK HOLMES Y LAS MÁSCARAS DE LA MUERTE (1984) .... Sh. Holmes
APARICIONES EN DOCUMENTALES
PETER CUSHING: A ONE-WAY TICKET TO HOLLYWOOD (1989)
DOCTOR WHO: THIRTY YEARS IN THE TARDIS (1993)
VAMPIRE INTERVIEWS, THE (1994)
SANGRE Y MUERTE, EL LEGADO DEL TERROR DE HAMMER (1994)
100 YEARS OF HORROR (1996)
Fuente: Circuloholmes.org.es